Dentures

Vancouver, WA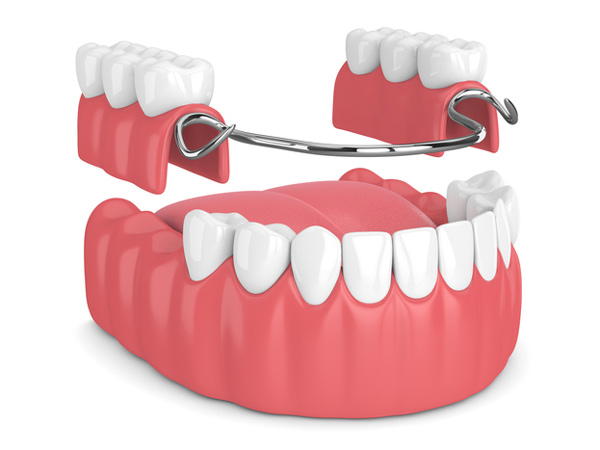 There are many reasons why you may be without some of your natural teeth. Riverstone Family Dentistry wants you to know that regardless of what this reason may be, both complete and partial dentures may be an option for you. Before deciding which of these is right, it's important to learn about them though.


The Difference Between Complete and Partial Dentures

Partial dentures rest on a piece of metal that serves as the framework for these artificial teeth. This framework attaches to your natural teeth, which sometimes have crowns placed on them while serving as anchors. These are nice because you can remove them to clean your mouth.

When you're missing part of your jaw, it must be prosthetically replaced, and so you'll need a complete denture instead. The main difference between it and a partial denture is that the complete denture is used when you don't have any teeth remaining that could serve as an arch. Therefore, a complete denture is completely supported by your mouth's tissues.

Both types of dentures essentially look the same. They consist of replacement teeth that are attached to a gum-colored base that's made from plastic.


When You Can Get Your New Dentures

Once you have your teeth pulled, you'll have to wait about four weeks to get complete dentures. During this time your mouth must heal so that we can take impressions to design the dentures for you. It's also important for you to try them on before you receive the completed work.

Today, there's also something that's known as an "immediate" denture available. These are dentures that are immediately inserted into your mouth once we remove all your teeth. The main drawback to this is that your gums will shrink as they heal. In doing so, your immediate dentures will need to be rebased or relined so they'll fit you properly. As such, many people still prefer to get the traditional complete or partial dentures.


What To Expect When You Get New Dentures

Once you get new dentures, it'll take you about 30 days to get used to wearing them. It's important to be patient throughout this time because you're faced with the challenge of learning how to eat (make sure you start with small, soft pieces of food) and talk again. In the beginning, you'll also experience some soreness or discomfort in your gums because you're unaccustomed to having your dentures rub against your gums. It may also be caused by improperly fitting dentures, in which case you can make an appointment to come into our office and have them adjusted, so they fit better for you. After the initial adjustment period is over, you'll enjoy wearing these dentures for 5-8 years before you'll need a new pair because your gums will shrink or change shape during that time.

Hopefully, this information has made it a bit clearer regarding what complete and partial dentures are. If you still have some questions, make sure you get in touch with Riverstone Family Dentistry at (360) 326-1443 to schedule an appointment so you can come in and talk to us.